Wise Tree Care is a Professional Tree Care Company
With Over 15 Years of Experience
Experience the Difference
You may be wondering what's the difference between an arborist and a self-proclaimed tree-trimmer. It's a common question. While there are many differences, the primary one is knowledge. Arborists go through extensive educational and experiential training to learn every facet of tree ecology, maintenance and on-site safety.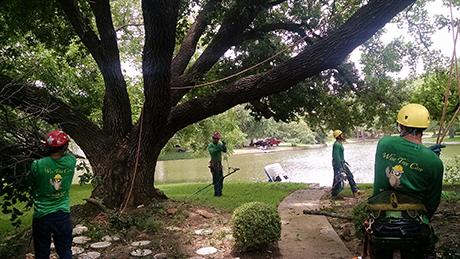 It's kind of like the difference between hiring a professionally trained chef to cater your next big event instead of your Aunt Gladys (who happens to make a mean tuna casserole). The chef's likely to approach the project with a totally different mindset, asking very specific questions before coming up with a comprehensive plan to deliver exactly what you need. Because of his training, he's also more likely to pay attention to detail, nuance and overall presentation.This is exactly the level of care you can expect in working with a professional arborist. Translation: You're not just getting a tree-trimmer, you're getting an experienced advisor and creative engineer all rolled into one.
Although some of our competitors do have trained arborists on staff, very few actually guarantee their presence on job sites. Conversely, all of our employees are properly trained in tree care and safety management, and every job includes a certified arborist on staff to manage the project from start to finish. This means several things for our customers:
Speedy completion times (most projects completed within a day).
Ensurance that only the best pruning techniques will be used.
Consistent communication throughout the entire process.
Thorough and timely debris clean-up when the job is done.
A beautiful yard you enjoy looking at everyday.
Ready to get the ball rolling? Click Here to schedule a home visit, or keep reading to learn more about us.
Story of Origin
It all began with a wedding.
One of my closest friends was getting married, and I was broke. I began mowing lawns, planting flowers and trimming shrubs, all in an effort to raise money for a plane ticket. Long story short, I did raise enough funds for the trip.
But, throughout the process, something even more amazing happened: I found I genuinely enjoyed what I was doing working with my hands, spending time outside, meeting new people  and didn't want it to stop. Up this point, I'd planned on pursuing a career in a different field. But thanks to some solid advice from a friend, I decided to follow my passion instead. I enrolled in classes with the International Society of Arboriculture and became a certified arborist in 2004.
Shortly after, I founded Wise Tree Care with a simple goal providing homeowners with honest, reliable and high-quality services. And, as they say, the rest is history! When I'm not thinking about trees, you can find me playing golf, attending church or enjoying the great outdoors with my wife and two kids.
Ready to get started? Click Here to speak with us about your tree care needs. We'd be honored to help provide a beautiful backdrop for you and yours.
Sincerely,
Matthew McGeary
Owner